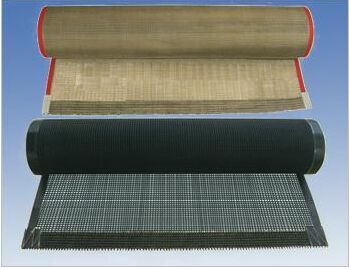 Teflon mesh conveyor belt
ptfe teflon coated fiberglass mesh conveyor belt
Properties:
 1. Good temperature tolerance,24 working temperature -140 to 360 Celsius degree.
2.  Non stick,easy to clear adhesives on the suface.
3.  Good chemical resistance:it can almostly resist most of chemical medicines,acids,alkalis,and salt;fireproof,lower in aging.
4.  Low coefficient of friction and dielectric constant,good insulating capacity.
5. It can avoid wasting heat and improve drying efficiency for its permeability.
Application of ptfe teflon coated fiberglass mesh conveyor belt:
1. Drying machine for non-woven textile, textile printing, silk-printing and dyeing machine.
2. Shrinking machine for garment fabric, high-frequency and UV dryer.
3. Hot-air dryer, various of food baking, quick-frozen machines.
4. Food processing and packing.
5. Release sheet for sticky products.
Technical data sheet:
Item No

Mesh size

Color

Basic material

Thickness

Max width

Weight

g/m²

Tensile strength

HM801
4*4mm

Brown

Glass
1.0mm
4000mm
500
2800/1580N/5cm
HM802
4*4mm

Brown

Glass
1.0mm
4000mm
450
2100/1500N/5cm
HM803
4*4mm

black

Glass
1.0mm
4000mm
550
2800/1500N/5cm
HM804
4*4mm

black

Glass
1.0mm
4000mm
400
2100/1500N/5cm
HM805
4*4mm

Brown

Glass+Kevlar

1.0mm
4000mm
600
3300/2800N/5cm
HM806
4*4mm

yellow

Kevlar
1.0mm
4000mm
500
3500/3300N/5cm
HM807
2*2.5mm

Brown

Glass
0.9mm
4000mm
600
2200/1500N/5cm
HM808
1*1mm

Brown

Glass
0.5mm
4000mm
370
1600/1500N/5cm
HM809
0.5*1mm

Brown

Glass
0.5mm
4000mm
420
2200/1500N/5cm
HM810
10*10mm

Brown

Glass
1.2mm
4000mm
450
1100/1000N/5cm
Specifications of ptfe teflon coated fiberglass mesh conveyor belt:
1.Mesh size:4*4mm,0.5*1mm,1*1mm,2*2.5mm,10*10mm size
2.Color: brown, black
3.Material:fiberglass +PTFE or Kevlar
4.Jumbo roll: max width 4m
5.Joint style: bull nose joint, Alligator Joint, Metal Clipper joint