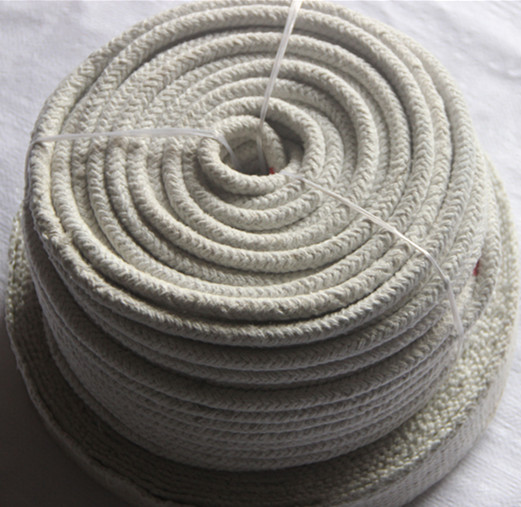 Ceramic Fiber Rope
ceramic fiber rope includes square braided rope, round braided rope and twisted rope. All are made from high quality ceramic fiber material
ceramic fiber rope includes square braided rope, round braided rope and twisted rope. All are made from high quality ceramic fiber material.
The rope is reinforced with fiberglass filament, or alloy steel wire.
Fiberglass filament reinforced rope can work in the temperature below 650C with electric insulating property, while alloy steel wire can work in the temperature 1100C with higher strength.
Ceramic fiber textiles (cloth, tape and rope) contain a certain amount of binder material which is normally burned at lower temperature and does not affect the insulation property .
The three different styles are designed to fit different application needs: twisted rope is a soft rope, while square and round braid are more dense and solid.
Item
Ceramic fiber rope
Type
Glass fiber strengthened ceramic fiber rope

Steel wires strengthen ceramic fiber rope

Applications
• High temperature static seal e.g. door joint or gaskets for flanges

• Fire protection e.g. fires proof curtain against welding spark.

• The protection of cable, fuel tubes etc

• Fireproof twine, wrap, cover etc

• Pipe or round duct insulation lagging

• Asbestos substitute

Features
•Excellent high temperature stability

• Excellent tensile strength

• Excellent thermal electrical insulation

• Excellent chemical stability resistance

• Low thermal conductivity.

Packing
In plastic bags, in cartons or according customers requirement.
Payment Terms
L/C, D/A, D/P, T/T, Western Union, MoneyGram, Cash.
Delivery Time
Within 15 days after received the deposit.
Certificate
ISO9001-2000, ISO14001-2000, CE ,SASO,SGS .